International participants
Participation in the MILSET Expo-Sciences International 2023 is a fantastic opportunity for showcasing projects created by more than 2000 participants, coming from more than 65 countries around the world. The participation age range is from 9 to 25 years old.

Be part of this amazing experience and surprise the world!
How to participate?
The projects showcased at ESI 2023 are selected by MILSET Member Organisations.
If you are: A MILSET member
You will receive an email from esi2023@milset.org with your invitation and password to register your delegation on ESI 2023 registration system. In case you did not receive it, please recover it on the page or send an email to esi2023@milset.org
Non-MILSET member
Please send your request to esi2023@milset.org and the corresponding MILSET Regional Office email. Do not forget to add the name of your organisation, country, contact name and email address:

MILSET Asia: asia@milset.org
MILSET Amlat: amlat@milset.org
MILSET Europe: europe@milset.org
MILSET Noram: noram@milset.org
MILSET Vostok: vostok@milset.org
MILSET Africa: africa@milset.org

The corresponding office will analyse your request. If the Regional Office authorises your participation, you will receive a welcome letter with your access code to register on ESI 2023 registration system.
Individual Projects
In case you have a project and are interested in participating in ESI 2023, please follow the next steps:

1- Contact a MILSET member organisation from your country, through this link https://milset.org/milset/web/members

2- Ask if you can be part of its delegation and follow the process that the organisation indicates.

Note: It is not mandatory that organisations accept the request. The participation of individual projects (not representing any organisation) is not allowed.
MILSET Registration System
Don't miss the chance to register from February 1st to July 31st, 2023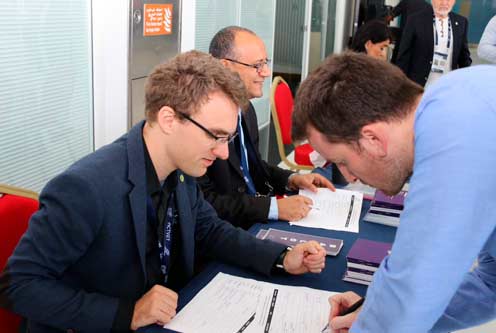 Non-MILSET member
Participants
Supervisors and Heads of Delegations
Visitors, Guest, and VIP
MILSET member
Participants
Supervisors, Heads of Delegations and MILSET Authorities
Visitors, Guest, and VIP
Note: Participation Fees Covers: 6 nights at hotels, 3 meals per day, city tour, excursion, participant kit and local transportation (venue, hotels).
The procedure to obtain the visa depends on the country of the request.

Here you will find if your country needs a visa to ingress Mexican territory. For those who are required to obtain a Visa: Link comming soon

**** Remarks: Participants are fully responsible for securing their visa on time and for providing all required documents to obtain it. The organisers will not be responsible if a participant does not receive his visa in time to travel. A copy of your visa must be uploaded to the registration system by August, 2023.
Saturday, October 21, 2023


All day Arrivals at Benito Juarez International Airport (MEX)
All participants should arrive at Mexico City
airport where the Host committee will guide them to the bus station to buy their tickets.

Sunday, October 22, 2023


Registration & set up
Leaders' Information Meeting
Conferences & Workshops

Monday, October 23, 2023


Opening ceremony
Exhibition
Conferences & Workshops
Special Activity

Tuesday, October 24, 2023


Exhibition
Leader Congress
Conferences & Workshops
Tours

Wednesday, October 25, 2023


YCC
Conferences & Workshops
Tours
Dismantling

Thursday, October 26, 2023


Cultural Event
Closing Ceremony

Friday, October 27, 2023


Departures
All participants should take into account the transit time (2 hours and 30 minutes)
from Puebla Bus Station to Mexico City International Airport before their scheduled flight.